Aubrey's Song Foundation, Inc. is an IRS recognized Not-For-Profit 501(c)(3).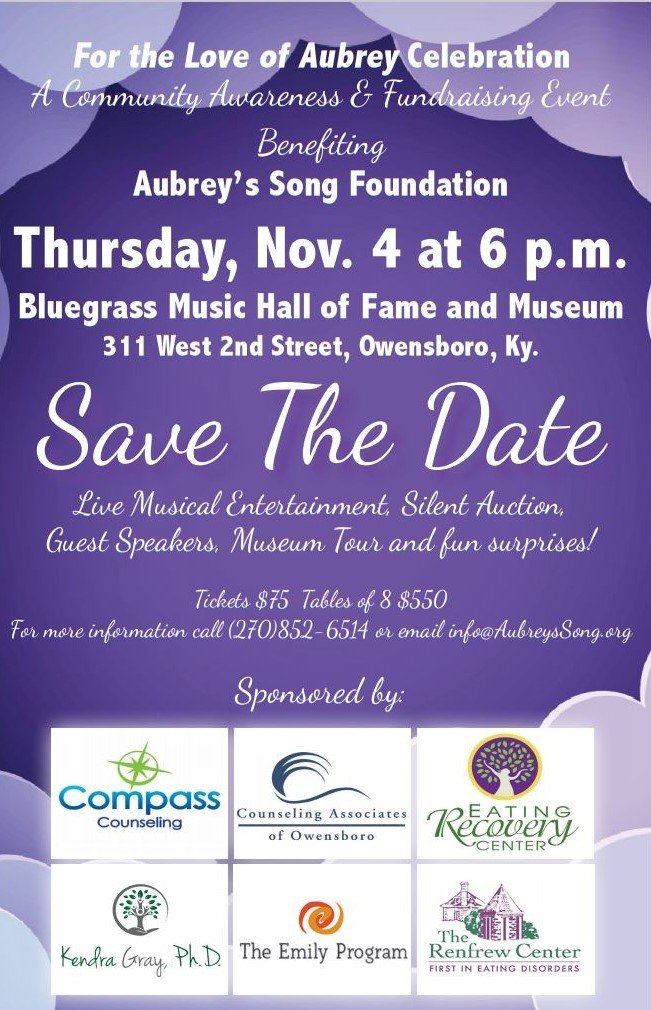 Due to COVID concerns, our For the Love of Aubrey Celebration has been postpone until September 22, 2022.
It is with regret but out of caution due to COVID concerns that we postpone our For the Love of Aubrey Celebration benefit, scheduled for Thursday, November 4 at the Bluegrass Hall of Fame and Museum, to Thursday, September 22, 2022.  This difficult decision by Aubrey's Song's board is based on recommendations of our regional hospital and the district health department for safety considerations.
All ticket and/or table purchases will be honored on the rescheduled date of Thursday, September 22, 2022. All sponsorships will be forwarded as well to the 2022 event. If anyone has any questions or concerns, please contact us at 270-852-6514.
Thank you for your understanding of our need to keep our guests and supporters safe during this time.
Aubrey's Song Foundation thanks its event sponsors: Eating Recovery Center, The Renfrew Center, Counseling Associates of Owensboro, Kendra Gray, PhD, Compass Counseling, and The Emily Program.
About Us
Aubrey's Song Foundation's Mission: To raise awareness of eating disorders by promoting prevention and positive body image, providing professional and community education, and developing local resources for treatment.
We are devoted to continuing Aubrey Michelle Clark's legacy of helping others in need.